On September 8, the Investigative Committee issued a statement stating that former Republican MP Mher Sedrakyan (nickname Mher of Tokhmakh) had been charged with abuse of power.
According to the Investigative Committee, abusing his power as head of Erebuni administrative district of Yerevan in 1999-2008, with the help of community council members, Sedrakyan alienated a total of 12,035.5 square meters of land owned by Erebuni administrative district in the territory of Vardavar Park, as a result of which the mentioned land was removed from community ownership.
Back in May of this year, in an interview with "Hraparak" daily, referring to the adoption of the Law on Confiscation of Illegal Property, Sedrakyan said that he had no concerns about it. "I don't have them. Why should I? I built my house with the sweat of my brows, a modest house, next to that lake. They have posted the picture of a huge private house․ It is not my house, it is a modest, one-storey house," he said.
The Fact Investigation Platform decided to study what real estate the former MP officially ownshas. And since, according to the law enforcement authorities, the territory of the park was alienated to Sedrakyan's son and brother, we also studied the real estate registered in the name of the latter.
The Sedrakyans' real estate
Mher Sedrakyan has held state positions for about two decades. As we have mentioned above, in 1999-2008 he was the head of Erebuni administrative district, and in 1995-1999 and in 2012-2017 he was a Member of Parliament. Both times he was elected by the majoritarian system. For the first time (in 1995) he was non-partisan, but in 2012 Sedrakyan was already a member of the Republican Party.
As an MP, Sedrakyan submitted a resignation declaration to the Commission on Ethics of High-Ranking Officials in 2017, in which he mentioned one residential house, one unit of land and one apartment. Currently, according to the documents provided by the Cadastre Committee, only one apartment is registered in Mher Sedrakyan's name (one residential house in Erebuni).
Sedrakyan's son – a large owner
The list of real estate registered in the name of Mher Sedrakyan's 37-year-old son, David Sedrakyan, is especially impressive. He can be considered a large owner. David also held community positions in 2006-2007. He was the advisor to the head of Erebuni administrative district, that is, to his father, and in 2007-2009 he was the deputy head of Erebuni administrative district. In 2013, he was elected a member of the Yerevan Council of Elders from the Republican Party of Armenia, and in August 2014, by the decision of Prime Minister Hovik Abrahamyan, he was appointed Deputy Chairman of the State Committee of the Real Estate Cadastre until February 2017.
Davit Sedrakyan declared 13 units of real estate in the declaration of assuming the position in 2014, including 9 land plots, 3 public buildings and 1 industrial building. Three years later, in the resignation declaration submitted in 2017, Sedrakyan's list of real estate had sharply increased; he had declared 20 units of real estate (including 12 units of land, 3 public buildings, 2 industrial buildings and 3 apartments).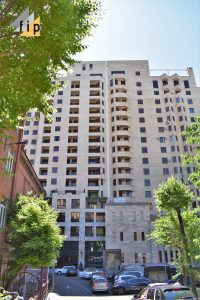 Now, according to the Cadastre Committee, he owns 12 private houses or buildings, 10 of which are in Erebuni, 1 in Shengavit and 1 in Zovuni village. Sedrakyan has one plot of land with the construction right in Erebuni. In the center of Yerevan, in the newly built building on 1/1 Yekmalyan Street, 3 apartments, 7 parking lots, 5 storage rooms and 1 area are registered in the name of David Sedrakyan.
Mher Sedrakyan's son also owns an administrative building in Tsakhkadzor, which, according to Hetq, he received as a gift from Edgar Karlen Nahapetyan in 2013. It used to be the "Academy" pioneer camp belonging to the National Academy of Sciences, and in 2005, based on the division plan, it was registered as the "National Olympic Committee of Armenia Legal Union". It now functions as "Teghenis" recreation area and consists of 25 cottages.
One real estate is owned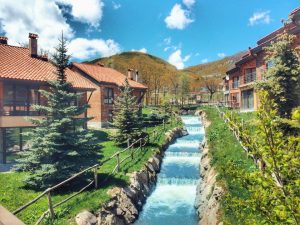 by Mher Sedrakyan's wife Shushanik Afyan in the center of Yerevan, at the same 1/1 Ekmalyan Street.
No real estate is registered in the name of the eldest daughter of the Sedrakyans, Astghik Sedrakyan.
One apartment in the center is registered in the name of the youngest girl, Elina Sedrakyan, three apartments in one building in Erebuni, and one unit of land in the same community.
The real estate belonging to Mher Sedrakyan's brother
As for Mher Sedrakyan's brother Vardan Sedrakyan, the latter and his family also have a considerable amount of real estate.
According to the data provided by the Cadastre Committee, Sedrakyan's brother owns 4 real estates (residential houses, buildings) in Erebuni, an apartment and a parking lot in Arabkir, as well as an agricultural land in Jrvezh village.
One of the real estates owned by Sedrakyan in Erebuni is the "Lake Argishti" cafe-restaurant located at 87 Sasuntsi Davt Street. It is located on the shore of Lake Vardavar, and was built in 2005, when Mher Sedrakyan was the head of Erebuni administrative district.
And the giant private house, which Mher Sedrakyan mentioned in his speech, is not really registered in his name, but, nevertheless, belongs to his family. The luxurious mansion is registered in the name of his brother's wife, Hranush Sedrakyan. It is located at 231/47 Khorenatsi Street. There is a protocol on the house, according to which it was built by Vardan Sedrakyan in 2001.
Thus, we can state that the former Republican MP and Head of Erebuni administrative district Mher Sedrakyan and his son have become the owners of a huge amount of real estate, mostly when holding state and communal positions.
A special place can be attributed to Vardavar Park, which used to belong to the community and which in the 2000s actually became the private property of the Sedrakyans. In 2000-2005, they built a family house on one side of the lake and a restaurant on the other. This is clearly seen on Google Earth satellite images.
Nelli Lazaryan
Hovhannes Nazaretyan