On February 27, American TV star Kim Kardashian posted a photo of Ukrainian President Vladimir Zelensky in her Instagram stories, saying that the president was wearing a military uniform to defend his homeland.
Kardashian added that the United States offered to evacuate the President of Ukraine but he replied that he did not need to be evacuated, he needed bullets.
Photos of Zelensky in uniform were shared by many other users, noting that he was personally involved in the military operations.
In fact, the photo is old. On December 6, 2021, Zelensky visited combat positions near the line of contact with Donetsk to meet with Ukrainian servicemen.
The second photo was taken in April 2021 during Zelensky's visit to Donbas.
Nevertheless, Ukrainian President Zelensky remained in the capital after the start of hostilities on February 24, regularly delivering live messages to his fellow citizens.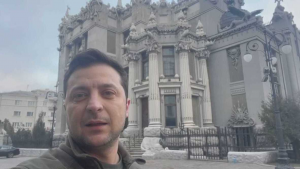 Lusine Voskanyan