On the morning of August 15, 2022, Prime Minister Nikol Pashinyan visited the "Surmalu" shopping center, where an explosion took place the day before.
The videos circulating in the media depict how one of the prime minister's convoy SUVs has a license plate missing in the front.
However, on the back of the same car there is a number plate: 001 UU. This is the car that serves the Prime Minister personally, and Nikol Pashinyan is seen getting off this car.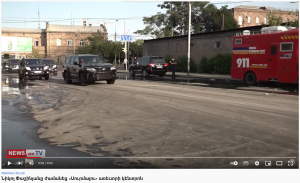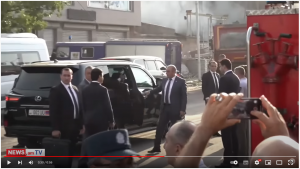 It is noteworthy that all the other cars accompanying the Prime Minister had registration plates in accordance with the established procedure, and only the car carrying the Prime Minister was traveling in violation of the established procedure.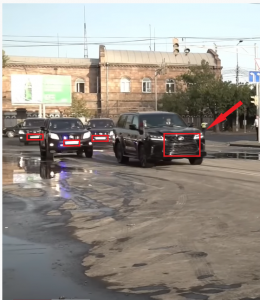 It turns out that the Prime Minister is riding in flagrant violation of the law, because according to Article 18, Part 1 of the Law on Road Traffic Safety, the movement of the vehicle is prohibited if the driver drives the vehicle with a fake, changed or non-substandard registration number plate or without number plates.
And according to the order of registration and allocation of vehicle license plates, light passenger cars are assigned 2 (front and rear) license plates containing the same set of numbers and letters.
Thus, not having a registration plate on the front of the vehicle that carries the Prime Minister is a violation of the law on Road Traffic Safety.
It should be noted that this is the first time when Nikol Pashinyan travels in a car that does not have  a registration number plate; in many videos published in the media in the past, it can be seen that the car carrying the Prime Minister always had registration plates.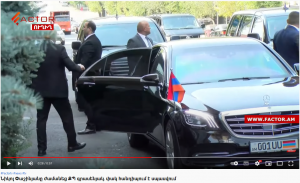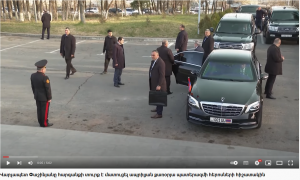 It should be noted as a reminder that the previous day there was an explosion in the "Surmalu " shopping center, as a result of which the building of the shopping center and the adjacent buildings collapsed.
Rescue operations continue. According to official information, as of the time of publication of this article, there are 6 people dead and 17 missing.
Sevada Ghazaryan