As a result of the military operations launched by Russia on the territory of Ukraine, the flow of citizens of Russia, Ukraine and Belarus to Armenia has increased rapidly.
The Fact Investigation Platform has summarized the statistics of the arrivals and departures of the citizens of the mentioned countries and the difference in the numbers (migration balance) for the period February-July, 2022, that is, since the start of the war.
Thus, 469,170 Russian citizens arrived in Armenia from February to July 2022. This is 2.2 times more compared to the same period of 2021 (209,112).
The difference in numbers of departures and arrivals during this period was 75,356. Last year's migration balance for Russian citizens was also positive – 33,149. The number of arrivals from Ukraine to Armenia in February-July 2022 increased slightly, only by 5% compared to the same period last year. In 2021 that number was 12,451, while in 2022 it was 13,107.
In February-July 2022, 12,050 citizens of Belarus also arrived in Armenia. It should be noted that the number of citizens arriving last year was 3,558, that is, the number increased more than 3 times.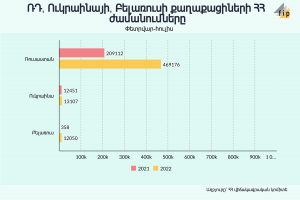 Thus, compared to the same period last year, the number of departures and arrivals of citizens of the Russian Federation, Ukraine, and Belarus from and to Armenia has increased. Moreover, the difference between inflows and outflows has increased, and Belarus recorded the highest growth in terms of percentage.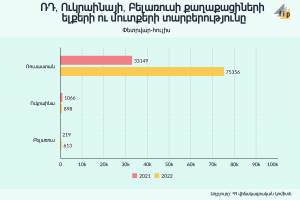 Nane Manasyan