On October 1, 2020, two journalists of the French "Le Monde" newspaper were wounded in a shelling by the Azerbaijani armed forces in the building of Martuni municipality in Artsakh.
The condition of one of the journalists, Allan Kaval, was extremely serious, he was operated on in Stepanakert Medical Center, then the journalists were transferred to Yerevan.
As a result of Azerbaijan's actions, at least 7 journalists were injured on October 1 alone.
The statement of Azerbaijan
The Ministry of Foreign Affairs of Azerbaijan issued a statement yesterday putting the blame of the journalists being injured on the Armenian side: "We want to emphasize that Armenia organizes the visit of journalists to the zone of military operations, thus endangering the lives of foreign journalists, strictly violating international humanitarian laws."
Azerbaijan refers to the UN Convention, accusing the Armenian side of using foreign journalists for propaganda purposes.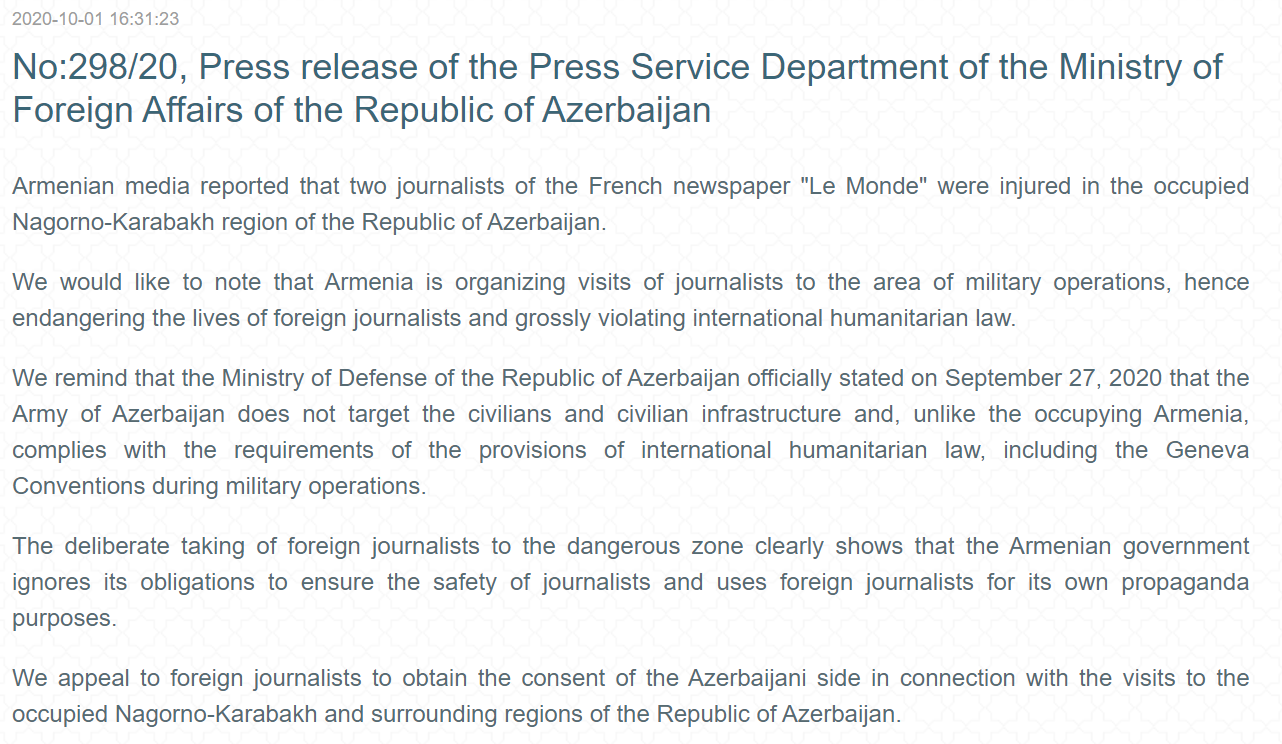 "The deliberate deployment of international journalists in the danger zone clearly shows that the Armenian government is disregarding its obligation to ensure the safety of journalists and is using foreign journalists for its own propaganda purposes," the Ministry of Foreign Affairs of Azerbaijan said in a statement.
Geneva Convetion
However, the Ministry of Foreign Affairs of Azerbaijan distorts the content of the UN Convention on the Regulation of Journalists' Work in Military Zones.
According to the Geneva Convention, which regulates humanitarian rules in military situations, journalists have the same status as civilians.
Despite the official statements of Azerbaijan, in fact, since September 27, 2020, Azerbaijan has deliberately attacked a number of settlements in Artsakh and Armenia, including the cities of Stepanakert, Martuni, Hadrut in Artsakh and Vardenis region in Armenia.
Dozens of civilians were killed and more were seriously injured as a result of the drone strikes. On October 2, Azerbaijan targeted Stepanakert, which is the most densely populated region of Artsakh, with at least a third of population.
In Stepanakert, civilian infrastructure was damaged by Azerbaijan, including the building of the rescue service, as a result of which about 10 rescuers were injured.
Thus, it is clear that Azerbaijan is deliberately targeting the civilian population of Armenia and Artsakh.
Moreover, the Geneva Convention does not prohibit journalists from entering the military zone.
Journalists and the media themselves decide whether to operate in military zones. State bodies only give permission.
In other words, Azerbaijan's claim that the Armenian side "took" foreign journalists to a dangerous zone is absurd and baseless.
In addition, according to the UN Convention, even journalists working for propaganda purposes cannot be targeted by conflicting forces.
This, of course, does not apply to calls for violence. Journalists become targets only when they join military operations. something that none of the offended journalists did.
Hovhannes Nazaretyan