On November 17, a map was circulated on the Internet, according to which Azerbaijan plans to build a Baku-Aghdam-Shushi-Nakhichevan railway. It was circulated on the Armenian Internet domain by the analitik.am news website and former Minister of Justice Hovhannes Manukyan.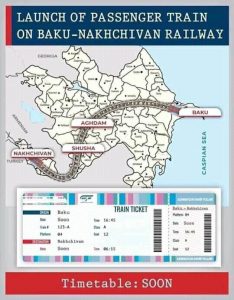 According to former Minister Manukyan, Aliyev announced the construction of this railway during a visit to the Khudaferin Bridge. "This Caucasian Turk said during his visit to Jabrail and Fizuli that Armenians will live with other nations in a multinational Azerbaijan, and introduced the Baku-Aghdam-Shushi-Nakhichevan railway project, which allegedly will be built soon. By the way, through the territory of Meghri," he wrote.
However, no such project was introduced by the President of Azerbaijan. Aliyev only announced about a road from Fizuli to Shushi. There is no news or information about this in the Azerbaijani media, and it is not clear what source this information published by the former minister and analitik.am is based on.
On November 1, Azerbaijan Railways released a video announcing that in the future it plans to launch the Yevlakh-Stepanakert railway, which existed during the Soviet period. Azerbaijan has not introduced any other railway project so far.
Hovhannes Nazaretyan