On the night of September 12-13, 2022, after the attack of Azerbaijan on the borders of Armenia, a number of international reputable media outlets began to cover the clashes, however, presenting them as clashes in "Nagorno-Karabakh" or "on the border of Nagorno-Karabakh".
Thus, The New York Times wrote an article about the clashes with a headline "Clashes have broken out in Nagorno-Karabakh, raising fears of another war."
Although the website edited the material after some time, it still remains under the same title on social networks. The article with the wrong title continues to be shared among a number of English-language news outlets.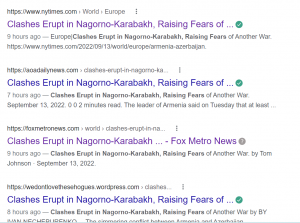 The German Deutsche Welle and the American Washington Post repeated the same mistake. These news outlets wrote that the clashes took place "near the border of Nagorno-Karabakh". Although in this case the news media did not refer to the immediate territory of Nagorno Karabakh as the site of clashes, the wording creates the impression that Nagorno Karabakh was actually the target of the clashes and the Azerbaijani attack.
Many users of social networks and even officials have also "misplaced" Nagorno Karabakh with the locations of recent Armenian-Azerbaijani clashes.
Judy Chu, a congresswoman from California, condemned Azerbaijan in her Twitter page for the artillery strikes "in the south of Armenia and Nagorno-Karabakh".
The recent Azerbaijani artillery strikes in southern Armenia and Nagorno Karabakh are unconscionable. Azerbaijan must respect the ceasefire and end this violence now.

I'm calling for an immediate end to *all* military aid to Azerbaijan.

— Judy Chu (@RepJudyChu) September 13, 2022
Clashes are on the Armenian-Azerbaijani border and in the territory of Armenia
According to official news and visual evidence published by independent media since midnight of September 12, clashes are taking place on the Armenian-Azerbaijani state border, and Azerbaijan is targeting Armenian settlements along the border.
The geography of clashes covers from Sotk settlement of Gegharkunik province (bordering Karvachar (Kelbajar) region) to the settlements adjacent to Kashatagh (Lachin) region, as well as Vayots Dzor province with Jermuk city.
Azerbaijan also targeted the Armenian positions in the direction of Artanish in Gegharkunik province, which borders the Gedebay region of Azerbaijan and has no connection with Nagorno Karabakh or its surrounding areas.
Ani Avetisyan
Mher Taroyan