The concert of the famous Ukrainian musician Max Barskih was scheduled to be held in Baku, the capital of Azerbaijan, on December 10, 2022, however, it became known that the musician's concert was canceled against the backdrop of Azerbaijan's attack on Armenia.
After the cancellation of the concert, the Armenian media began to actively spread the word that the concert was canceled in support of Armenia, and users in the Armenian domain of social networks thanked Barskih.
At the same time, the Azerbaijani media wrote that Barskih's concert was canceled by the Azerbaijani organizers in response to the fact that the singer "supported the aggression of Armenia".
The Fact Investigation Platform decided to understand what happened in reality and how it was decided to cancel the concert.
After Azerbaijan launched an attack against Armenia, the musician made a "story" on his Instagram page  supporting Armenia, after which active and aggressive criticism of the singer and his concert started in the Azerbaijani domain of social networks and in the press.
According to the information spread by the Azerbaijani news outlets on the morning of September 15, Max deleted his Instagram "story" not long after the reactions he received from Azerbaijan.
This statement is probably true, because Barskih's Instagram page only contained information about the cancellation of the concert, but less than 24 hours had passed since the first publication, and it is known that Instagram "stories" are displayed for 24 hours.
Azerbaijani users of social networks demanded to cancel the concert and not allow the musician to enter Azerbaijan again.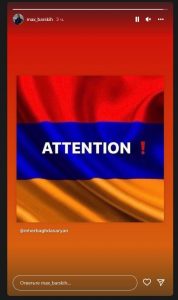 Regarding the cancellation of the concert, Barskih wrote about it in the afternoon of September 15. In particular, he wrote: "a country that allows aggression against another country cannot be a place for my concerts".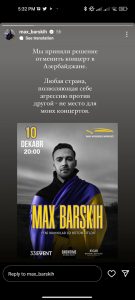 Earlier, in the morning of the same day, information about the cancellation of the concert had already spread in Azerbaijan. The news about the cancellation of the concert was confirmed by tiket.az, the organization selling tickets. The latter announced that the reason for the cancellation of the concert was Barskih's "provocative stand" and "his support for the aggressor regime".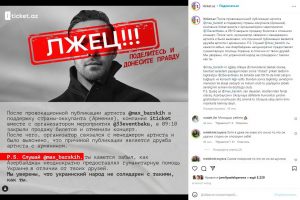 According to Azerbaijani sources, the organizer of the concert contacted the singer's manager and found out that the "reason" behind the latter's post was Barskih's "friend of Armenian descent". The Azerbaijani website vesti.az advised Barskih to have a concert in Yerevan instead, however "reminded" him that the population of Armenia "supports Russia".
The hate speech against Barskih continued and intensified after the latter posted about the cancellation of the concert.

Thus, it is not possible to confirm or deny precisely whose initiative was the cancellation of the concert, but it is noteworthy that a systematic campaign was launched in Azerbaijan against the musician for his post in support of Armenia.
Ani Avetisyan