The newly appointed Chairman of the Anti-Corruption Court, Khachik Ghazaryan, who until his appointment was the acting head of the Judicial Department, has paid AMD 5.8 million in compensatory damages to the state budget.
In February-June 2021, alleged violations were found during the inspections carried out by the State Supervision Service, on the basis of which a criminal case was initiated by the Investigative Committee. The investigation revealed that several employees, including Ghazaryan, were sent on fake business trips to different regions by the then Head of the Judicial Department Karen Poladyan, and received a relevant per diem for the trip.
In response to the inquiry sent by the Fact Investigation Platform, the Prosecutor General's Office informed that Ghazaryan (who has the status of a witness in the criminal case) compensated damages to the state during the preliminary investigation.
The Prosecutor General's Office also informed that in October 2021 it was already decided not to prosecute Ghazaryan and dismiss criminal charges against him "on the grounds of lack of corpus delicti in his actions".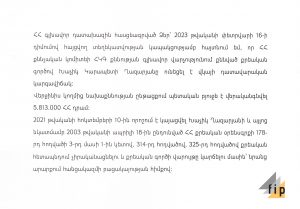 Earlier, FIP.am had referred to the circumstance that Transparency International downgraded Armenia's position on the Corruption Perceptions Index 2022, despite the promise of the government.
Nane Manasyan