According to the law that became effective on January 1, 2023, new obligations regarding the beneficial ownership have been established for legal entities, including parties registered in Armenia. Legal entities shall submit a declaration of beneficial owners to the Ministry of Justice by February 20 of the respective year.
The law was amended in June, 2021.
At the beginning of April, the Ministry of Justice reported that only 7 out of 117 parties registered in Armenia submitted a declaration regarding the beneficial owners.
Fact Investigation Platform decided to find out which of the parliamentary parties complied with the legal requirement and submitted the declarations.
Following the 2021 extraordinary parliamentary elections, 6 parties entered the National Assembly from which the ARF, One Armenia and Reborn Armenia parties entered the parliament with "Hayastan" faction, and "Hayrenik" party and the Republican party – "With honor" faction.
Out of the 6 parties that entered the Parliament, 3 have submitted declarations about the beneficial owners: Civil Contract, Republican Party of Armenia and ARF.
By the way, none of the three met the deadlines.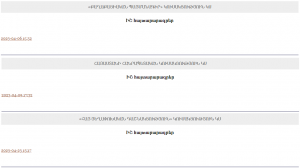 The other three parties, One Armenia, Reborn Armenia and "Hayrenik" parties have not yet submitted the declarations regarding the beneficial owners of their parties to the Ministry of Justice.
Let us remind that these parties are also funded from the state budget. Only in the 2023, more than AMD 520 million were allocated to the NA parties from the state budget, of which the above-mentioned parties also have their share.
Sevada Ghazaryan