During the discussion of the 2022 annual state budget report in the National Assembly on June 15, Prime Minister Nikol Pashinyan announced in his final speech that the influx of IT companies from Russia to Armenia in the recent year and the resulting economic indicators are the outcome of the government's policy.
"Look, there is a lot of talk about the fact that the IT sector moved here, well, because there was a war, Russia… Yes, why did they move to Armenia? Doesn't that question arise? Is there no other country? At the same time, they criticize the decision to have a flat income tax. If the income tax was not flattened from 35 percent and 28 percent and from 23 percent to 21, and subsequently to 20 percent, would that IT worker have come to work in Armenia? Would they move to Armenia and pay 35 percent income tax or 28 percent income tax? It is thanks to these decisions that those people came," Pashinyan stated.
The Fact Investigation Platform decided to find out how many people emigrated from Russia in 2022 and in which countries they mainly settled, as well as to what extent the influx of Russian IT companies is due to favorable tax conditions compared to other countries.
The official statistics of Russia do not provide any data in this regard. However, there are many studies on this topic, according to which the number of people having left Russia since the war in Ukraine varies from 500 thousand to 1.5 million.
The Bell carried out a rather comprehensive analysis on this topic, according to which more than 512,000 citizens left Russia last year.
According to the same source, the number of people who came to Armenia from Russia is about 40 thousand, which almost exactly coincides with the data of the Statistical Committee of Armenia. Therefore, we can consider The Bell's study quite reliable and accept it as a baseline for our calculations.
Georgia was the most preferred country for more than half a million Russian citizens, with an estimated number of 112 thousand Russians who came to the country.
The other preferred countries were Kazakhstan (100 thousand), Turkey (78 thousand), Serbia (50 thousand citizens). Armenia ranks 5th in this list with 40,000 immigrants.
According to the Statistical Committee of the Republic of Armenia, the difference between arrivals and departures of Russian citizens is about 38 thousand, which, as mentioned, is quite close to The Bell's estimate.
Almost as many people moved from Russia to Israel in the same period.
It turns out that, although Armenia is on the list of the main emigration destinations preferred by Russians, several other countries have been more preferable from this point of view, including Georgia, with which Russia does not have diplomatic relations.
Now let us try to compare the income tax rates applied in these countries and find out how attractive the 20 percent income tax rate in Armenia (last year it was 21 percent) was for Russians.
According to the legislation of Georgia, the income tax rate in the country is 20 percent, exactly as much as it is now in Armenia.
In Kazakhstan, residents pay 10 percent income tax, non-residents pay 20 percent.
In Serbia, as in Kazakhstan, residents pay 10 percent income tax to the state, and non-residents pay 20 percent income tax.
The principle of progressive income taxation is applied in Turkey. In other words, along with the increase in income, the income tax paid also increases. It ranges from 15% to 40%.
For comparison, it should be noted that the income tax of a person earning up to about $1,800 per year in Turkey is 15%, and the income tax of a person earning a salary above $49,000 is 40%.
The progressive income taxation method is also applied in Israel. It starts from 10 percent and depending on the amount of income, it can reach up to 50%.
From 2020, a transition was made from progressive income tax to flat taxation in Armenia, according to which, in 2020, an income tax rate of 23% was set, which would decrease by one percentage point every year. Starting from 2023, the income tax in Armenia is 20%.
Hence, we see that the income tax in Armenia is not the lowest at all, and it cannot be stated with certainty that Russians came to Armenia, because the income tax rate is low. Moreover, some of the listed countries have higher income tax rates, which, however, did not stop Russian immigrants from deciding to move to those countries.
About IT sector employees
In December last year, the Minister of Digital Development of Russia, Maksut Shadayev, announced that since the start of the war, about 100,000 IT sector specialists left Russia.
Referring to the studies of the Complexity Science Hub Vienna research center, The Bell writes that about 10 percent of IT professionals who left Russia moved to the USA, 7.6 percent to Germany, 6.2 percent to Georgia, 5.3 percent to the Netherlands, and 4.7 percent to Armenia.
Since the Prime Minister referred to the circumstances of IT workers moving to Armenia in his speech, it should be noted that although the number of professionals and companies that moved to Armenia is quite large, there are other, more preferable countries for Russian IT workers, where the income tax is higher than that in Armenia.
For example, the average income tax in the USA is 37 percent, in Germany it is 14-45 percent, in the Netherlands it is 36-52 percent*.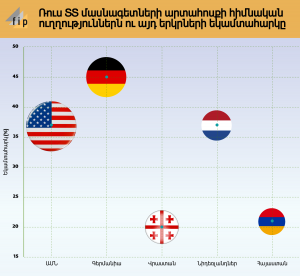 Thus, the Prime Minister's claim that Russian immigrants or IT professionals preferred Armenia because the income tax here is low is manipulative, because we can see that more Russians have moved to countries that offer stricter tax legislation, and for IT specialists, Armenia, although quite popular, is not the most preferred destination.
* It should be noted that with this article we do not intend to make a comprehensive comparison between Armenia and other countries; we have merely compared the income tax rates in the countries. In a potential broader research, one could take into account the fact that the market in the USA, Germany and the Netherlands, in particular, that of the IT sector, is larger and more capacious than the market in Armenia, therefore, the emigrating Russian companies objectively had more opportunities to "fit in" those markets. On the other hand, Armenia and Russia share a common customs and economic territory, there is a free visa regime between the two countries, there are no language barriers for Russians, and so on. Moreover, Russian citizens can travel to Armenia with internal passports.  
Sevada Ghazaryan