On August 16, the UN Security Council session discussed the humanitarian situation in Nagorno-Karabakh due to the illegal blocking of the Lachin Corridor based on Armenia's appeal.
During the session, the Permanent Representative of Azerbaijan at the UN denied the reports of the Armenian side and the representatives of other Security Council member states about the humanitarian disaster in Nagorno-Karabakh and presented photos of birthdays and wedding ceremonies in Nagorno-Karabakh as evidence.
"Social networks are full of many videos and photos of how the Armenians of Khankendi (Stepanakert) celebrate birthdays, weddings and other holidays… These photos refute the claims about hunger, suffering and humanitarian crisis," he noted.
The photos shown by the Permanent Representative of Azerbaijan at the UN cannot be proof of the claims of the Baku propaganda machine about the absence of a humanitarian disaster.
Fact Investigation Platform, studied the Internet and found numerous photos and testimonies about marriages in ghettos or concentration camps during the genocide of Jews by Nazi Germany, the Holocaust.
Thus, the official website of the United States Holocaust Memorial Museum features documents of the marriage of more than 40 Jewish couples in May 1942 in the ghetto of Lodz, Poland.
Not Even Past, an online educational resource, has published a series of photographs from the museum's exhibition depicting marriages or ceremonies of Jewish couples in the ghetto or concentration camps during the Holocaust, and attended by Jews identified and controlled by the Nazis.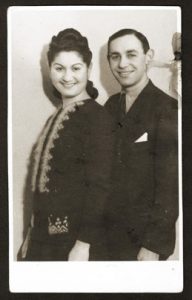 This photograph, on file at the US Holocaust Memorial Museum, depicts a Jewish couple in the Warsaw Ghetto during a wedding ceremony in November 1941.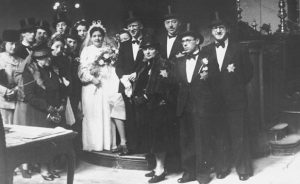 In the photo taken in Amsterdam in 1942, another wedding ceremony is depicted, with the "Star of David" sewn on the clothes of the participants. it was a special distinguishing mark that, by order of the Nazis, the Jews living in the territories under German control had to wear during the Second World War, by means of which the Jews had to be identified in public places.
Thus, weddings and other joyful ceremonies took place even in the most difficult and disastrous periods of history. The fact of such ceremonies cannot deny the military-political or humanitarian realities under which such ceremonies took place.
Just as the testimonies about Jewish celebrations during the Holocaust years cannot be a denial of the Holocaust, the appearance of photos from similar ceremonies taking place in Artsakh under the blockade on social networks cannot deny the fact of the humanitarian disaster that is in place there.
Nane Manasyan