On September 4, Armenian (1, 2, 3) and Russian (1, 2, 3) media outlets published a post made on X (formerly Twitter) by an Austrian public figure, the president of the European Committee for NATO Enlargement NGO Gunther Fehlinger, claiming that NATO invited Armenia to join the military alliance.
Mr. Fehlinger wrote: "I call on Armenia to join NATO." In the same post, he also called on US President Joe Biden to protect Armenia.
I call Armenia 🇦🇲 to join NATO @NikolPashinyan
Protect Armenia 🇦🇲 @POTUS pic.twitter.com/4eZs3PAYzH

— Gunther Fehlinger (@GunterFehlinger) September 3, 2023
Fehlinger made another call to join NATO in his X microblog. "Armenia, join NATO and the EU, remove Russia from the Caucasus."
Armenia, join NATO and EU
Cancel Russia from Caucasus https://t.co/AmyGe7FGCg

— Gunther Fehlinger (@GunterFehlinger) September 4, 2023
Based on Fehlinger's posts, both the Armenian and Russian media spread disinformation by claiming that NATO calls for Armenia's membership.
Gunter Fehlinger does not hold any position in the North Atlantic Alliance. There is no European committee for NATO enlargement in the structure of the alliance.
And the European Committee for NATO Enlargement for Kosovo, Ukraine, Bosnia, Austria, Moldova, Ireland, Georgia, EU chaired by Mr. Fehlinger is a non-commercial public organization.
What is more interesting, however, is the hasty and manipulative spread of Fehlinger's post in the Russian press. The information with manipulative headlines was spread by well-known Russian propaganda news websites RIA Novosti, TASS, Interfax, Lenta.ru and Gazeta.ru.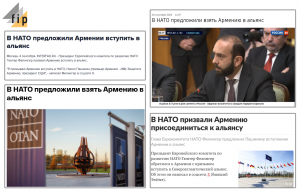 It is noteworthy that Fehlinger has been in the spotlight of the Russian propaganda media before, again with "scandalous" headlines. In particular, in August 2023, representing Fehlinger's point of view as NATO's, the Russian press published his opinion that Brazil will collapse if it supports Russia.
Nane Manasyan