As we have already informed, candidate for member of Yerevan City Council from the Prosperous Armenia Party Ashot Andreasyan has spread disinformation through a special group created on Facebook throughout the election campaign. It is mainly manifested by spreading ridiculous and defamatory materials on rival candidates on the Internet.
The group was quite large, composed of 50 people. Ashot would place a defamatory article about one of the rival candidates, and the other members of the group were obliged to share these publications on their own walls and others pages. The best performers were encouraged by a free visit to the "Water World" aqua park.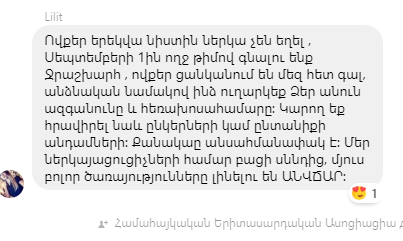 This group also includes members of precinct electoral commissions appointed by the Prosperous Armenia Party in spite of the fact that law prohibits them to be engaged in election campaign. However, these people also actively participated in the pre-election campaign. It can be clearly seen from the photos posted by them on their Facebook pages.
Below we introduce the list of PEC members that were engaged in the campaign.
1․ Erebuni 10 22 Lilit Haykaram Aleksanyan 010714 TSARUKYAN, Chairman
2․ Nor Nork 2 38 Albert Robert Gevorgyan 039842 TSARUKYAN, Member
3․ Kentron 9 40 Angelica Ara Khachunts 039864, TEC Member
4․ Kentron 9 23 Ani Hakob Hovsepyan 039862 TSARUKYAN, Member
5․ Shengavit 8 16 Artavazd Levon Aleksanyan 010757 TSARUKYAN, Chairman
6․ Kentron 9 17 Hripsime Gevorg Gevorgyan 039835 TSARUKYAN, Member
7․ Erebuni 10 12 Hripsime Spartak Sukiasyan 010129 TSARUKYAN Chairman
8․ Kentron 9 28 Karen Lernik Torosyan 039854 TSARUKYAN, Member
9․ Kentron 9 22 Rudik Arkady Manukyan 039878 TSARUKYAN, Member
10․ Kentron 9 42 Hayk Karen Stepanyan 039849 TSARUKYAN, Member
11․ Kentron 9 28 Lilit Albert Babajanyan 039845 TSARUKYAN, Member
12․ Kentron 9 34 Milena Karen Petrosyan 039852 TSARUKYAN, Member
13․ Erebuni 10 36 Artak Nshan Karapoghosyan 010172 Republican Party of Armenia, Member
14․ Shangavit 8 22 Edgar Sergey Sargsyan 010761 TSARUKYAN, Member
15․ Kentron 9 16 Hovhannes Vardan Mirimyan 039841 TEC Member
16․ Nor Nork 2 43 Vahe Artak Harutyunyan 010130 TSARUKYAN, Chairman.
It should be noted that according to Article 40.8 of the Code of Administrative Offenses, campaigning by persons not entitled to campaign entails a fine of 100 to 200-fold of minimum salary, and for officials it makes up 200 to 400-fold of minimum salary.
Rafael Afrikyan
ATTENTION
Dear all, we hereby inform you that SUT.am will soon be renamed "Fact Investigation Platform" with FIP.am website.