Acting Head of the State Supervision Service Arghishti Kyaramyan appeared in the center of public attention after assuming his office in April this year, especially because of the "staggering" amount of declared financial means.  In spite of Kyaramyan's clarification that most of the money has been donated by an uncle living abroad, many questions related to the origin of property remain unanswered.
Examining the submitted declaration and the documents received from the Real Estate Cadastre Committee, Fip.am revealed that the data in the declaration submitted by Acting Head of State Supervision Service are not complete, and Kyaramyan has concealed another property belonging to him.
Information on real estate is not completed in full
In the declaration submitted on 8 May 2019 to the Commission on Ethics of High-Ranking Officials, Arghishti Kyaramyan mentioned two residential houses, four land plots, one other real estate on the land and one garage as real estate belonging to him. In total, Kyaramyan has declared eight different types of real estate.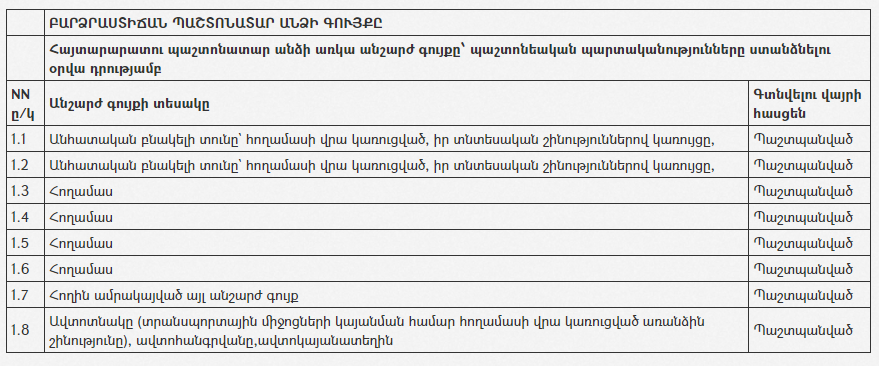 However, according to the documents received from the Real Estate Cadastre Committee, the number of registered real estate owned by Arghishti Elbek Kyaramyan is nine, including one apartment, three residential houses, four land plots and one garage.
Actually, Kyaramyan did not declare the apartment owned by him with the right of joint ownership (the apartment is located on 16 Melikyan Street, Kanaker-Zeytun administrative district).
Kyaramyan denies
The Fact Investigation Platform sent an inquiry to the Acting Head of the State Supervision Service to find out why the above-mentioned real estate was not declared. In a reply letter, Kyaramyan said that the apartment does not belong to him by property right.
"I was registered in the aforementioned address a few years ago. Then I was removed from registration. If you have received information from the RA Real Estate Cadastre Committee that the property under discussion is owned by me, please clarify this information again" Kyaramyan wrote.
The Cadastre confirms
Fip.am once again turned to the Cadastre in order to clarify whether it is possible that there is a mistake in the document. However, the Cadastre assured that there is no mistake and the apartment located in Kanaker-Zeytun is registered in the name of Argishti Kyaramyan with the right of joint ownership.
"We have an ownership certificate for 16 Melikyan Street, Apt. 36, which was provided by us in on 22 July 2010. Argishti Elbek Kyaramyan is co-owner there. Maybe they did alienation or donation after that. However, if, for example, they make donations, they must go to a notary, have a certificate of donation, bring it to us so that we do a name change. We haven't registered any change, and we do not have any new certificate", the Cadastre employee clarified.  
As evidence, the apartment ownership certificate was also provided by the Cadastre. The document states that owners of 16 M. Melikyan str., Apartment 36 are Vardanush Nikolay Avanesyan, Larisa Rouben Grigoryan, Tigran Rouben Grigoryan and Argishti Elbek Kyaramyan. According to media reports, Larisa R. Grigoryan is Argishti Kyaramyan's mother.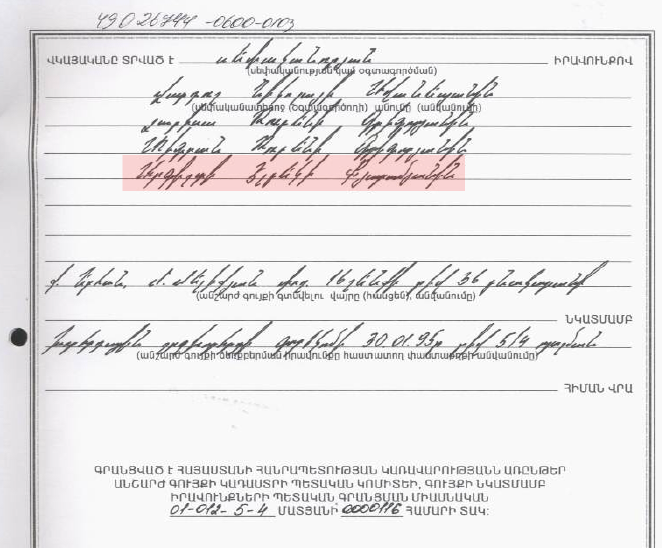 It is noteworthy that in the list of residential houses belonging to Argishti Kyaramyan, House N 2, Lane 5, Street 1 of Yeranos village, Gegharkunik region, is mentioned, where one person is registered: Elbek Yerem Kyaramyan, who is Archbishop Arakel Kyaramyan, head of the Kotayk Diocese. So, it still remains unknown to the public what kinship ties Arghishti Elbek Kyaramyan and Elbek Yerem Kyaramyan have. Note that according to the press reports, the latter has made lavish donations to the Acting Head of the State Supervision Service.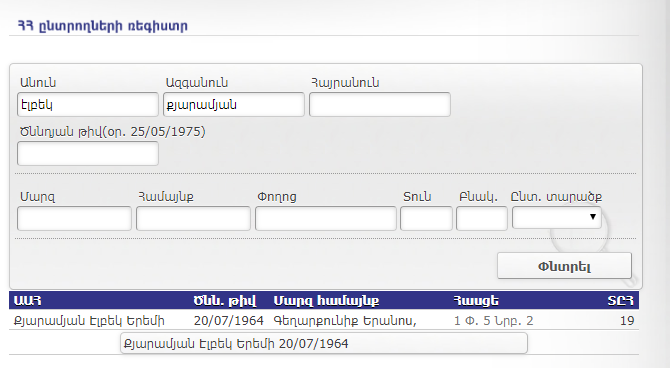 Thus, in fact, Argishti Kyaramyan has presented false information on his property in his declaration, which is a crime under Article 314.3 of the Criminal Code (presenting false information in the declaration or concealing information subject to declaration).
Karine Kirakosyan
Sevada Ghazaryan