In recent years, fake accounts supporting political forces or figures have become quite active on social networks. In this respect, Armenia is not an exception, and the Fact Investigation Platform has already revealed two cases when fake pages are used to form an artificial positive opinion around a politician or a party. You can see the investigations by following these links:
In addition to fake accounts, in Armenia there is the practice of advertising this or that political force through groups and pages, and slandering opponents, which often turns into insults and ridicule.
In these cases, "articles" and videos posted on "mushroom" websites are often used, as well as posts of people known or unknown to the public, sometimes posts by fake users, which in a short time gather thousands of views, shares, likes and comments.
The Fact Investigation Platform has singled out the Facebook pages supporting the current authorities, studied the main similarities and working style of their activities.
Fake pages
The Fact Investigation Platform also tries to study the fake accounts supporting the authorities, for which we even turned to our readers for help. So far, however, Fip.am has not been able to uncover any systematic activity of large groups supporting the authorities. This refers to obvious coordination of large groups of fake accounts from one or more centers, and not to the absence of fake accounts. Instead, we present the activities of pro-government Facebook groups with "tens of thousands of followers".
Types of pages supporting the authorities and their provisions
Thus, below we present the list of 13 Facebook pages studied by Fip.am, the dates of their creation, available information about the hosts.
Name
Created
Likes

(as of 18.02.2021)

Admins

Հայերով Ինֆո

30.08.2018

115,234

4 from Armenia

Հայ Ժողովուրդ

07․11․2018

81,316

5 from Armenia

Հեղափոխական Հայաստան

17․11․2018

13,945

3 from Armenia

Անհերքելի Փաստեր

25.03.2019

7,370

1 from Armenia

Ֆեյսը խոսում է

11․08․2019

16,868

4 from Armenia

Հայ Քաղաքացի

21․01․2020

54,030

4 from Armenia

Հպարտ Հայորդի

07․04․2020

62,398

9 from Armenia

Զարմանալի Աշխարհ

07․05․2020

12,927

2 from Armenia,

1 from Russia

AM Armenia

23․05․2020

79,947

4 from Armenia,

1 from Russia

Ճիշտ լուրեր

12․06․2020

36,043

1 from Armenia

Ռազմարդյունաբերություն

17․11․2020

491

1 from Armenia

Հայաստանին սպառնացող ներկա վտանգը

29.11.2020

22

1 from Armenia

Հայաստան

01․12․2020

13,302

2 from Armenia
There are various pro-government Facebook pages, but they are united by the posts praising or glorifying Prime Minister Nikol Pashinyan, criticizing or slandering his opponents.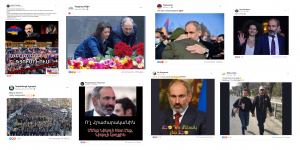 "True News" has shared posts from Nikol Pashinyan's official page at least five times (1, 2, 3, 4, 5).
Former high-ranking military figures with opposition views, including Seyran Ohanyan, Yuri Khachaturov and Movses Hakobyan, are criticized on the some pages. On March 2, the pages of "Armenia" and "Amazing World" published a photo showing "Ohanyan's Castle" with an attached caption within an interval of 15 minutes.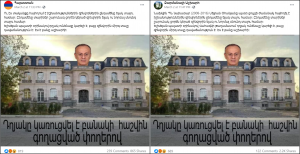 Some of the pages are flooded with false, unsubstantiated news. The "Amazing World" page stands out in this respect, which unjustifiably claims that "at least 200 thousand people" allegedly took part in the March 1 rally convened by Pashinyan, and that Onik Gasparyan, the Chief of the General Staff of the Armed Forces, "made a deal for $ 5 million" with the former authorities. The "Armenian Citizen" page spreads unfounded conspiracy theories about the death of former President Serzh Sargsyan's late wife Rita Sargsyan.

"True News" shared Samvel Babayan's statement praising Pashinyan in January of this year, but Babayan made that statement exactly one year ago, in January 2020, when the political situation was significantly different.
These pages also often contain insulting or slanderous publications, including the addresses of the opposition candidate for Prime Minister Vazgen Manukyan, former Minister of Justice Arpine Hovhannisyan and others.

And the "Hayerov Info" page, quoting the posts of unknown users, criticizes the deputies who left the "My Step" faction, namely,  Gor Gorgyan, Sofya Hovsepyan, Anna Grigoryan.

Six of the 13 pro-government pages studied by Fip.am often or sometimes share publications of so-called "mushroom" websites, through which "news" with sensational headlines are spread. However, the primary goal of "mushroom" websites is to provide visits through thousands of "clicks", which, in turn, brings financial profit to its owner by placing advertisements on the website.
For example, the "Hayerov Info" page shares the publications of "mushroom" websites arm-info.com and nice-story.ru. Two pro-government pages, "Armenian People" and "AM Armenia", share the publications of the "mushroom" website arm-news.ru. The "Armenian Citizen" page shares publications of fb-news.online website, and "Facebook speaks" shares content from dzayn.info. "Proud Armenian" page has shared content from Timearmenia.com, Newsarmm.ru, media46news.com, jamanak.ru, Haynewstv.ru, cirannews.ru, norutyun.ru, newsforarm.ru and Newnewsam.ru.
There are some peculiarities among the pro-government pages. In particular, the "Irrefutable Facts" page stands out. It is probably run by someone having close ties with the authorities. Thus, for example, on June 8, 2020, the page posted the documents of PAP leader Gagik Tsarukyan's gang rape case in 1979, after which it was shared in other groups, pages, as well as in the media. By the way, the first media outlet to write about this was "Haykakan Zhamanak" belonging to Pashinyan. A few days later, the page posted the document "Report of election bribes distributed on Tsarukyan's assignment". Chronologically, these two cases coincided with the tense relations between Tsarukyan and the authorities. On June 15, the National Security Service released a video of the search of Tsarukyan's house, and the next day he was stripped of his parliamentary immunity.
Recently, the "Irrefutable Facts" page calls the deputies who left the "My Step" faction "traitorous rats", who "betrayed not only Nikol, but also the people."
"Military Industry" and "Current threats to Armenia" pages have a small number of followers, but the four posts on these pages have thousands of likes because they were advertised on Facebook. The page called "Military Industry", which, by the way, has nothing to do with the military industry, tries to create the impression of a dilemma between Pashinyan and Vazgen Manukyan, behind whom, according to the page, stand former presidents Robert Kocharyan and Serzh Sargsyan. The first post of the page, which has more than 20 thousand responses, was signed by Arshak Sargsyan, the founder of Utaxi and several other companies. He requires from those who demand Pashinyan's resignation to point to their candidate for prime minister.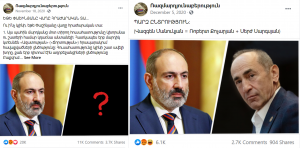 When working on this investigation, Fip.am also looked at the accounts of influential pro-government "public figures" (influencer), in particular, "Regina Prazyan" and "Mane Elbakyan". However, both pages were deleted during this period.
Hovhannes Nazaretyan