Yesterday morning, before the start of the anticipated important political events in Moscow, the Armenian Facebook was discussing the post of one of the famous TV hosts. She shared a photo in which the Armenian language was presented as the oldest language in the world, with a history of 45,000 years and a written heritage of about 40,000 years. Without delving into details, I can say that this is a clearly unscientific claim. Although Armenian is one of the oldest living languages in the world and has a truly rich written heritage, yet, according to scientific data, it is about ten times younger, taking into account the approximate time of separation from the Indo-European proto-language. Anyway, the post got hundreds of likes and lots of admiring comments. And when a few users questioned the credibility of this information and asked the author for a source, she first edited the post to say that it was not a claim, but an invitation to discussion, and then removed it.
During the same day, I happened to come across a post in the New York Art Museum group on Facebook. Its caption "tries to convince" that the vintage photo is of Leonardo da Vinci and Mona Lisa. This seemed like a pretty funny joke, but when I saw that thousands of people shared the photo and some of them probably didn't get the joke, I decided to localize it and do a little professional experiment among my Facebook friends using this "medieval photo". And so I created a mix of "sensitive" topics for Armenians, armed myself with the vocabulary typical of Facebook pages and wrote the following post:
An exclusive photo has been found in the archives of the Mkhitaryan Monastery in Venice, depicting Leonardo da Vinci and his famous poser Mona Lisa, Donna Lisa Gioconda. According to the preliminary conclusion of experts, the photo was donated to the congregation by the close associate of Napoleon Bonaparte, marshal Joachim Murat (Murad Hovakimyan) of Armenian ethnic origin during the incursions on Italy.
The Embassy of the Republic of Armenia in the Holy See is conducting active negotiations to return the exceptional find to its rightful owners in Armenia. Dear Armenians, put a plus so that our wish comes true.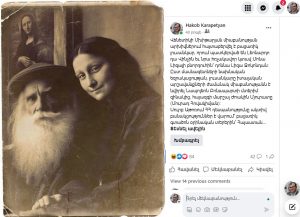 As obvious as it may be, let us list a few reasons why this is misinformation.
The famous Italian Renaissance artist Leonardo da Vinci (1452-1519), although a multi-talented genius far ahead of his time, whose engineering projects anticipated technological developments that were achieved several hundred years after his death, lived more than 300 years before the invention of photography. Therefore, Leonardo and Mona Lisa do not and could not have a photo together.
It is known that Napoleon Bonaparte had established good relations with the Armenian Mkhitarian Congregation of Venice and, despite the anti-religious trends of the time, granted privileges to the Armenian Catholic Mkhitarians. This is where our bait is: the average Armenian reader will remember a similar story from school. This bait becomes more attractive when presented with another myth, namely the "Armenian origin" of Napoleon's famous marshal named Murat. Many people have encountered the false claim that Joachim Murat, the famous general during Bonaparte's rule, King of Naples, was allegedly an Armenian named Murad Hovakimyan. However, there is no second opinion regarding Murat's ethnic origin. According to a biography published in London in 1911 (authored by Andrew Hilliard), he was born in the southern French region of Occitania. His father was the innkeeper Pierre Murat, the latter's father Guillaume Murat, and Guillaume's grandfather was Pierre Murat born in 1634. Marshal Murat's mother was Jeanne Loubier, daughter of Pierre Loubier. As we can see, there is no credible information substantiating the claim that the famous general was Armenian. On the contrary, the information about his being a native French does not give rise to any doubt.
Even if Murat was a pure-blooded Armenian, he could not have donated any photographs to the Mkhitaryan Congregation of Venice during the incursions on Italy, because the first more or less successful attempts at photography were made in the 1820s, while the invasion of Italy took place in 1796-1800, and Marshal Murat died in 1815.
There is also another claim in the post that suggests it is fake, or at least weird. It is the [dis]information that the Embassy of the Republic of Armenia in the Vatican is actively working to return the "photo" to Armenia. How can something be returned to where it never has been?
So I wrote the post, limiting its accessibility to my Facebook friends, which are close to 5,000, and many of whom I don't know personally.
According to the old Armenian tradition, I closed the post after 40 minutes, and as of that moment there was the following picture: a total of 86 users responded to the post, 54 of them put "ha-ha", 18 users put a "thumb up", and 11 put the "heart" icon and 3 people clicked the "wow" button. Some asked, "is this serious?" and when I cited the "source" as being The New York Art Museum page, they said, "we understand that, but is the information regarding Armenia true?" Others have tried to argue that photography could not have existed in Leonardo's time, citing the Wikipedia article on Photography. But I had the impression that if I convinced them a little longer, I would be able to shake their confidence. After all, the content of Wikipedia is created by people like us. One of the users, who, by the way, is a school teacher according to the information on the Facebook page, published the post in one of the "like-hunting" groups and removed it only after my request. And one of my famous friends hinted that I am diverting attention from the Pashinyan-Aliev-Putin meeting in Moscow.
This is quite a remarkable picture. The thing is, most of my Facebook friends are journalists or people professionally related to the media in one way or another. One can imagine the effect this post could have had if it had been made available to a wider audience.
And so, where does the border between fake news and absurdity cross? How to help people distinguish apparent misinformation or humorous content from real or at least plausible facts? There are several popular principles and means for this.
Check the source of any information 
This may seem like a time-consuming endeavor in the hustle and bustle of the day, but it's vitally necessary, and it is not difficult at all once you have mastered a few basic techniques.
Why is it necessary to fact-check?
Every day we shop in grocery stores, drugstores, and elsewhere, and we always ask for information about what we are buying, country of origin, manufacturing organization, expiration date, etc. We know that if we take poor quality food, we can get poisoned or poison our dependents, children, parents, etc. Or if we do not know the composition, dosage or other information regarding the medication, we can harm our health even further. So why do we think we should not check the origin, dates, or simply put, the quality of the information we consume? After all, poor quality information literally affects our lives, and in some cases, it can literally kill us. And systematic and persistent misinformation in the media can also become a threat to national security. We have seen evidence of this during and after the 44-day war. Therefore, any information should be verified.
How? 
When considering the example of Leonardo's "selfie", one can argue, "And why should the average reader know when Leonardo lived or when the first photographic device was invented? Be so kind as to provide true information."
Yes, none of us are experts in all areas, but when consuming information about areas we are not familiar with, we can gather additional information from experts in the field, search for alternative sources, and compare different pieces of information, especially taking into account the circumstance that in our time we can ask Google and get at least general answers to our questions. After all, if a person is interested in the Mkhitaryan Congregation or is proud of the glorious Armenian history, it would be a good idea to spend a few extra seconds to get more accurate information.
And especially, when you come across sensational news, consider that if what is written is true, the leading media will definitely refer to it. By quickly scanning the news of one or two websites, one can figure out whether what is written is true or not.
Read fact-checking media articles regularly
Fact-checking journalists are the watchdogs of the media. They not only help to understand to what extent the statement of a politician or the post of a social network influencer corresponds to reality, but also generally improve the media literacy of the reader, helping to understand the methodology of checking the reliability of information. Media.am, CivilNet, Infocom, Hetq, and, of course, FIP.am have fact-checking teams in Armenia. Our activity is predominantly dedicated to fact-checking and fighting misinformation.
Hence, you should consider reading our materials on the Fip.am website and subscribe to our pages on social networks: Facebook, Telegram, Instagram, Twitter and Youtube.
Hakob Karapetyan