Earlier this year, the National Security Service began inspections at the Karen Demirchyan Yerevan Subway.
According to the rumours, there were a number of illegalities found and a criminal case was initiated. It was reported that the illegalities or abuses of law were linked to former Director of the Subway Paylak Yayloyan and his son Artak Yayloyan.
Who is Paylak Yayloyan?
 Paylak Yayloyan has held the position of Subway Director for many years: from 2001-2003 and from 2007 to May 20, 2019, when Yayloyan was relieved of his post based on his own request. During his tenure as a director, Yayloyan sold some of the subway areas at a much lower price and leased those areas to his son.
Part of the subway administrative building given to Yayloyan's son 
Based on the inquiry of Yerevan Karen Demirchyan Subway CJSC, by the decision of former Yerevan Mayor Taron Margaryan, on February 7, 2014 part of the address Baghramyan Avenue 76 was given a separate address name- Baghramyan Ave., 76 Building, sub-building 2.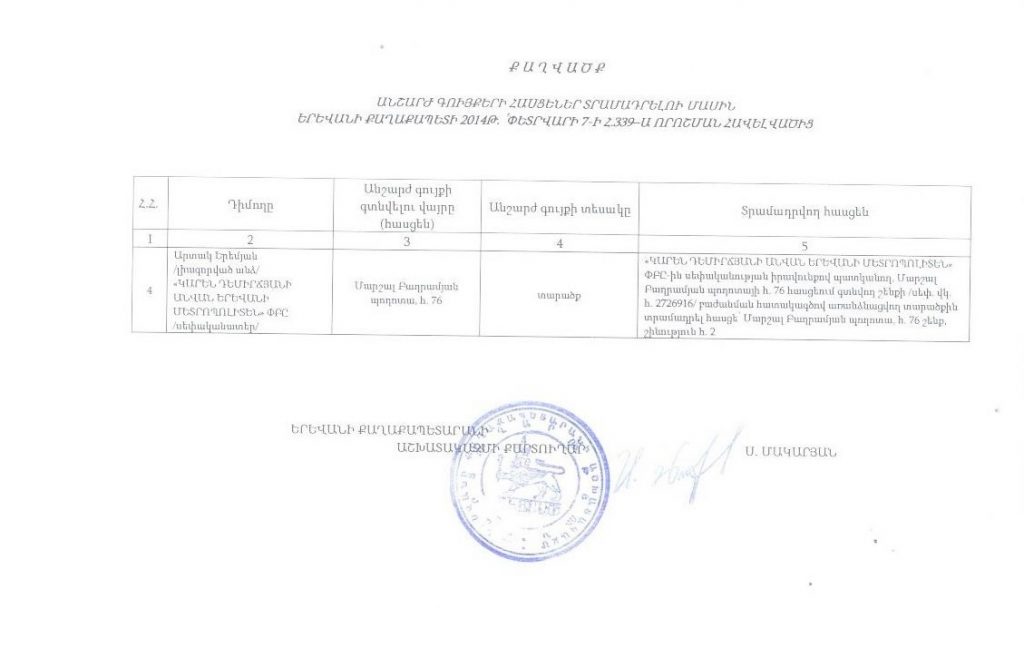 About a month later, on March 4, the Subway signed a lease with Artak Yayloyan, son of Paylak Yayloyan and the current director, selling the new address with the sub-building to the latter. The subway sold 923,7 square meters to Yayolyan for only 75.4 million AMD or 158 thousand dollars.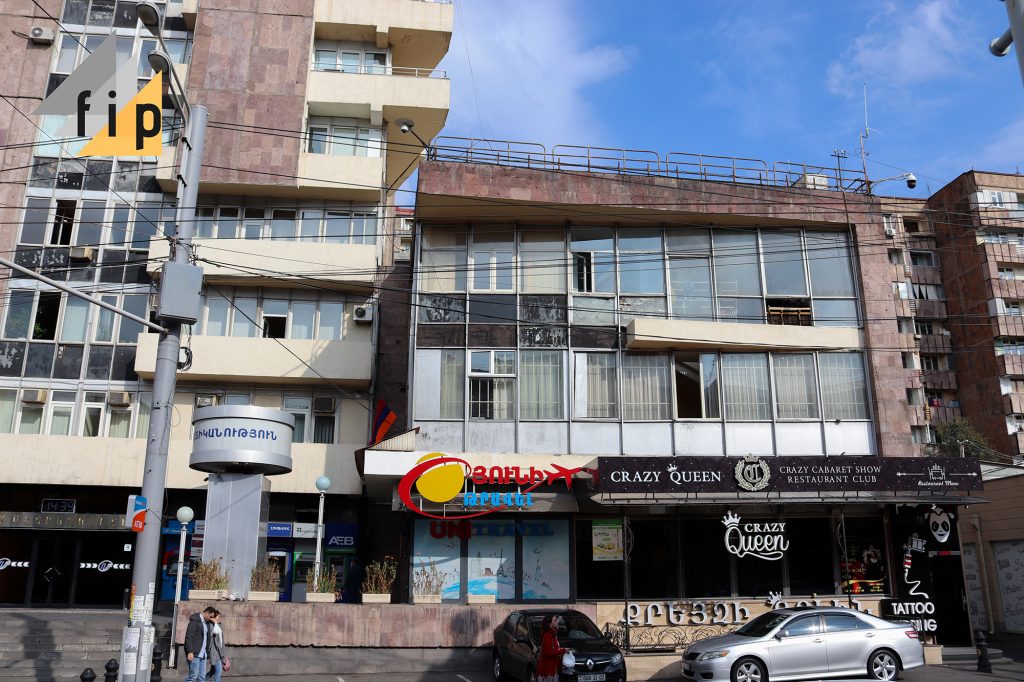 On March 31, Yerevan Subway and Artak Yayloyan signed a real estate distribution contract, according to which the parties own 0.19459 hectares of land under common ownership.
18 days later, on April 18, Artak Yayloyan sold a piece of 64 square meters of land already owned by him to 3 Poghos Gevorg Plavchyan for only 1 million 100 thousand drams. It should be noted that the latter was a member of the Prosperous Armenia faction of the Yerevan City Council from 2009-2013.
However, on June 5, this contract was terminated, as part of the property to be sold was also owned by Yerevan Subway. Two weeks later, on June 18, the area was nevertheless sold to Poghos Plavchyan, this Yerevan Subway and Artak Yayloyan acted as sellers. Under the new contract, the buyer was obliged to pay 4 million AMD for the 64 square meters.
Artak Yayloyan then leased the property to several organizations, Metroclab LLC for 100 thousand drams (94.9 square meters), Feliz Group LLC for 500 thousand drams (593.6 square meters) and "Namaste India" LLC for AMD 1 million 215 thousand (221.4 square meters).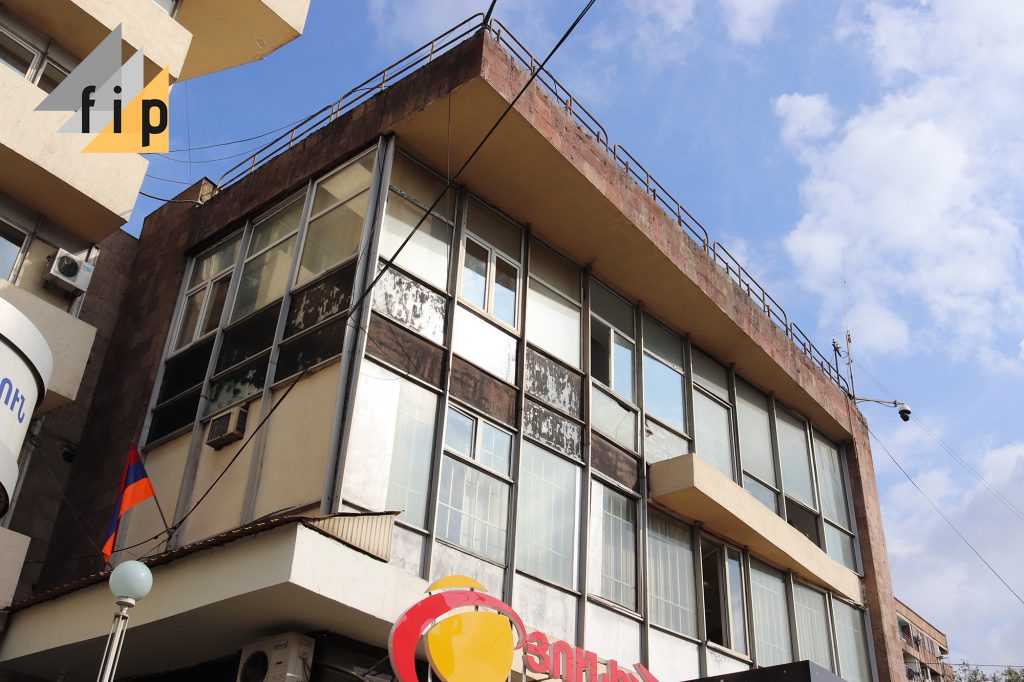 Artak Yayloyan as the tenant of the Metro building
 Paylak Yayloyan has sold another part of the subway administrative building to his son in addition to selling his son a part of the Yerevan subway.
Thus, on May 30, 2016, Yerevan Metro and Artak Yayloyan signed a real estate lease agreement, which provided the latter with 74 square meters of land at 76 Baghramyan Ave. (in the administrative building of Yerevan Subway), for a monthly rent of 148 thousand AMD.
Three weeks later, a new contract was signed between the parties, which increased the amount allocated to Artak Yayloyan, making it 78.9 square meters with a rent of 157 800 AMD. That is, Paylak Yayloyan's son was obliged to pay 2000 drams to the Subway for every 1 square meter.
Meanwhile, the Decision No. 4 of the Board of Directors of "Karen Demirchyan Yerevan Subway" CJSC dated 01-11-2011, set the minimum monthly fee for operating in metro stations and adjacent areas. According to this decision, the following minimum monthly rentals were set for metro stations:

However, by the same decision of the Board of Directors, the minimum rent was set to be AMD 2000 for 1 sq.m of activity in administrative and communication buildings and adjacent areas of the Subway. In fact, the area rented by Artak Yayloyan is within the area of subway's administrative building (78 Marshal Baghramyan Street), as a result of which Yayloyan pays only 2000 drams (in other areas the rent is higher). Interestingly, by this contract Paylak Yayloyan has provided his son with the lands for the period until 2040.
The real estate of the Yayloyans 
Paylak Yayloyan has worked in the Yerevan Subway for 28 years. According to cadastral documents, Yayloyan owns two apartments in the 78/1 Aygedzor Street in Yerevan and a plot in Dzoraghbyur. He also owns an apartment at the 50/1 Isakov Avenue with his two sons.
Yayloyan's eldest son, Artak, is a free tenant of part of the subway administrative building, and the owner of the other part. In addition, Artak Yayloyan has an apartment in the 6th building of Margaryan Street in Yerevan, and two land plots in Nor Nork Kochinyan street. In addition, he is the general shareholder of a residential house in the Paruyr Sevak district of Arinj village of Kotayk marz.
Paylak Yayloyan's youngest son, Vahagn Yayloyan, who the position of an economist in commercial advertising division of the Traffic Division at the Yerevan Subway, has three flats in 17 newly constructed buildings on  Byuzand street in Yerevan, and is the owner of a residential house in Paruyr Sevak district of Arinj village of Kotayk marz.
 Criminal case in NSS
 It should be noted that since March 2019, a criminal case under investigation by the NSS Investigation Department has seized 923.7 square meters of real estate located at 76/2 Baghramyan Avenue, owned by Artak Yayloyan.
The Preliminary Investigation Body found that in 2014, Payak Yayolyan's son Artak Yayolyan, the director of Yerevan Subway alienated the mentioned area on Baghramyan Avenue for 75,393,360 AMD, at a price lower than the cadastral value.
Paylak Yayloyan has been charged under Article 179 3 (1) and Article 214.2 of the Criminal Code, namely embezzlement and abuse of power in favour of himself or others, which has caused or has serious consequences for the rights or legitimate interests of an organization or state.
Sevada Ghazaryan